Design
The design is the starting point of each of our creations. It's an important phase that allows us to build the foundations of the video project, whether it's animation or live action. It all starts with a discussion between you and the Peech Studio production team, to establish the "brief" and launch the design phase. Then, following the brainstorming stages, the creation of a story plan (the video's roadmap), the visual and graphic universe of the video, and the sound effects… we offer our clients the opportunity to co-create the concept of the video during a workshop where their team and ours at Peech Studio work together, share ideas and find a common spark. Once all the elements have been drafted, we present them to you and rework them until the concept is approved. Once the design is complete, it's time to move on to pre-production !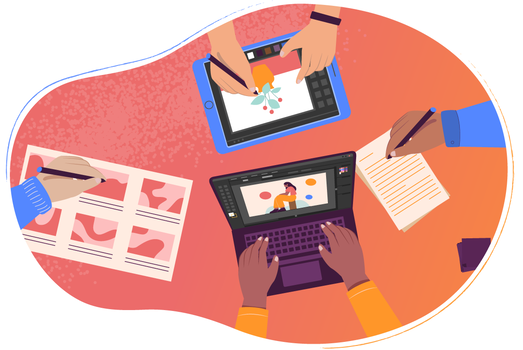 Production
Production is the creation of all the elements that make up the video. For motion design, we illustrate and animate the scenes of the story plan, we launch a voice-over casting and apply the recorded script on the video, and then add the music. For live action, we prepare the shooting with a technical breakdown and a roadmap, gathering the technical team and the actors during the pre-prod meeting, in which we plan all the graphic elements for the live action filming. And, when everything is ready: "Lights, camera, action!" During the production phase, we rework the different versions of the video according to your feedback, with no limitations.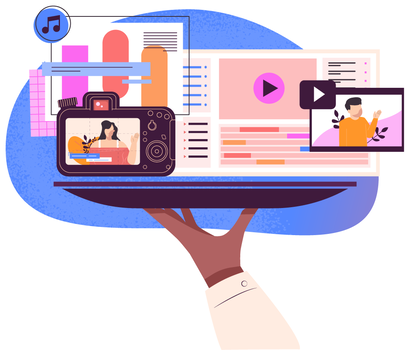 Post-production
Post-production is the finalization of the video. Once again, the steps vary between motion design and live action. Once the animation of the video is approved, it is possible to break it down in various formats, capsules, languages, subtitled versions, but also to add sound-design or lipsync for the animated characters.
For a real video, we proceed to the derushingand editing of the shots. After validation, the video can then be edited with graphic elements, colorimetry and sound. A voice-over can also be added, and the video can be adapted for all types of broadcasting.